Lynda Malerstein, BCH
Certified Hypnotherapist
Call for a Complimentary Consultation About Hypnosis
Hypnosis to Overcome a Fear of Flying
Overcome Fear Of Flying Quickly And Easily With Hypnosis
Are you denying yourself the vacation of your dreams because of a fear of flying? Do you dread work trips because you can only get there on a plane?
Hypnotherapy can help you feel calm enough to take your dream trips and fly so comfortably that work travel is no longer a chore.
Fear of flying is a phobia, an irrational fear not based on any solid evidence. Statistically, flying is the safest mode of transportation there is. Try telling this to your stomach when you walk into the cabin or hear the engines begin to whine. Pure adrenalin anxiety.
I know how you feel. In my 20's I suddenly developed a phobia of flying that was so severe that I couldn't be on an airplane without feeling like I was going to throw up, grabbing the armrests until my knuckles were white and my fingers sore. It got so bad that I couldn't fly at all. Now, I am so comfortable in the air that even turbulence doesn't bother me. The picture below is of me, having overcome my fear of flying and heading to my dream trip to Europe.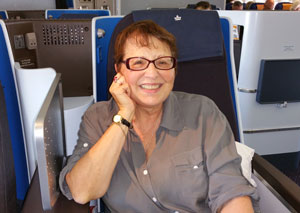 You can achieve the same freedom.

Hypnosis is focused attention and the bypass of the logical, analytical part of your mind. It is not a synonym for relaxation, although relaxation becomes a byproduct of the work we do. So if you are someone who has trouble relaxing, this type of hypnosis will still work for you.

The answers to the cause of your fear lie in the subconscious mind. You may be surprised to find that the cause of the phobia isn't always what you thought it was.
Call for a complimentary consultation.
310-228-3160

Through hypnotherapy, EFT and emotional release work, I help you find the root causes of the fear and anxiety, neutralize them and release the blocks attached to them. You will also learn techniques to calm yourself when you fly. These techniques will help you in other areas of your life as well.
You will be able to enjoy travel. No more pills.
Interestingly enough, once you confront and clear the root cause of the fear of flying other anxieties that you did not think we're in any way connected will begin to clear up on their own. Several clients overcame a fear of heights even though we never discussed it in our sessions. Several learned to swim for the first time after having had a fear of water even though we never discussed it in our sessions.
These techniques will also work for you if you have a fear of driving.
Call for a complimentary consultation.
Find out how you can become free to travel about the world.
310-228-3160


~~~~~~~~~~~~~~~~
Testimonials
"I went to see Lynda because my fear of flying was interfering with my life and getting in the way of me visiting family on the other coast. In just a few sessions she totally cleared my mind of any and all fears that I had. I walked onto the plane without feeling one bit of anxiety. EFT and Hypnosis helped me so much that I am now able to fly without taking Xanax and actually enjoy flying. Lynda really worked wonders for me!"
– R.K., Full time Mom, Los Angeles
"I have always been afraid of flying. Afraid to a point where I would have panic attacks on the plane or cry because I was scared. Seeing Lynda was the best decision I could have made! I felt completely comfortable during the entire process, and felt totally prepared for my next plane ride. When I flew after my sessions I was so relaxed during the flight that I could listen to my ipod, and even chat with the people around me! I was free to fly wherever I wanted!
It sounds corny, but I met the man who is now my Fiancé because of getting over my fear of flying, and we are going to be married in New Zealand within the year!! Lynda's talents have opened up a whole new world to me that was once filled with fear. I will never be able to thank her enough! "
– Corinne
"Thank you for excellent guidance in helping me overcome my fear of flying. I had long since come to the conclusion that my fear of flying (fear of crashing, in fact) was simply the repository for a great deal of long standing fear and anxiety about other things. After just a few sessions with you, I was able to fly relatively care-free. More importantly, I was not ridden with anxiety between flights, which in this case allowed me to enjoy a much-needed vacation. Even my wife enthusiastically commented that I was "like a different person" when it came to flying. Thanks again."
– AE, Los Angeles
"My anxiety around flying had become increasingly worse. I chose to see a hypnotherapist based on my friend's recommendation. He said Lynda was amazing and specializes in these types of anxieties.
She gave me the freedom and awareness to put me towards a positive path of self healing. In addition to the hypnotherapy, Lynda also gave me the tools needed to manage my anxiety of flying on my own. She helped to identify the triggers and provide techniques to help me address them when they were happening.
Since completing my initial sessions, I have told everyone about how incredible and transformative this experience has been. My family, friends, and colleagues have all noted the change in me, which is a testament to her work. I cannot thank Lynda enough and have referred her to anyone I can who I believe could benefit from her expertise. "
– A. F. -Los Angeles
~~~~~~~~~~~~~~~~

Serving Los Angeles, Beverly Hills, Century City, South Bay, Culver City, Santa Monica, Hollywood, and Tarzana.

Do you live outside of Los Angeles? I can help you via Zoom or Facetime. Call today for more information.