Lynda Malerstein, BCH
Certified Hypnotherapist
Call for a Complimentary Consultation About Hypnosis
Hypnosis CD's & Books
Power Journeys to Success for Relaxation and Self Help

Power Journey to
Deep Restful Sleep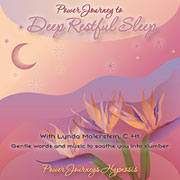 Hypnosis CD (replaces tapes)



Think back to when you were a baby, falling asleep easily, sleeping peacefully and soundly through the night. Wouldn't it be wonderful if you could sleep like that again? You can with this powerful hypnosis CD. No more insomnia!! Imagine letting go and sinking into a comfortable, relaxed state of self-hypnosis that easily and effortlessly allows you to release your worries and drift and float quickly and easily into deep, refreshing sleep. Guided imagery to help you relax combines with background music produced specifically to bring you into a peaceful, receptive "Alpha" state of hypnosis that will quiet your mind and gently carry you to the dream state of the subconscious. After listening to this self-hypnosis tape you will sleep soundly and awaken in the morning feeling refreshed, peaceful and ready to greet the new day. Insomnia will be a thing of the past.

"I felt connected to a lifeline by this voice! The content of the CDs is excellent, but it is the quality of Lynda's voice that really sets these apart. I've not yet heard the end of the sleep CD, except in my sleep! I readily recommend her hypnosis tapes to students, colleagues, friends, and family." Kathleen Terbeek, Professor of Voice, Texas Christian University


$18.95 plus Shipping
Product code hypnosis-tape-cd-sleep
Power Journey to
Abundance and Prosperity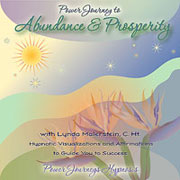 Hypnosis CD (replaces tapes)



Imagine yourself creating wealth and abundance in your life, now! Learn the secrets to prosperity and success in this amazing self-hypnosis CD. Powerful visualizations, hypnotic suggestions and affirmations from Chellie Campbell's best selling book "The Wealthy Spirit" bring you into a delicious, relaxed state of hypnosis. Free yourself from the beliefs and habits from the past that have prevented you from having all the success that you deserve. Hypnosis is a state you go into naturally every day, when you are so involved in an activity that you don't hear your name being called. In this state your subconscious mind is most open to suggestions. As you listed to this transformational tape, you will bring yourself easily and effectively into focus while soothing ocean surf sounds help induce a mentally receptive state. When you believe in your goals, you can achieve them. Here's to your success.


$18.95 plus Shipping
Product code hypnosis-tape-cd-abundance

Internet Special
Buy Both for $34.95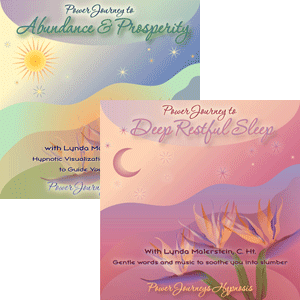 Hypnosis CDs (replaces tapes)

Internet Special
Buy both for $34.95 plus shipping


Product code: hypnosis-tapes-cds



Lynda's soft and soothing voice will guide you into an "altered state" of self hypnosis where your mind is open and receptive to suggestions. You go in and out of altered states every day, when you are so focused on a book, or TV show that you become unaware of outside sounds. This altered state brings you the delicious feeling of relaxation you get when you are just about to fall asleep at night, when you are on the bridge between sleep and awake.
Un Viaje Poderoso para Lograr un Sueño Profundo y Reposado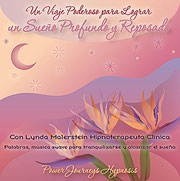 Hypnosis CD (replaces tapes)



$18.95 plus Shipping
Product code hypnosis-tape-cd-sleep-spanish
Este Hipnosis CD esta grabado en Español.

Think back to when you were a baby, falling asleep easily, sleeping peacefully and soundly. Wouldn't it be wonderful if you could sleep like that again? You can with this powerful hypnosis cd. Imagine letting go and sinking into a comfortable, relaxed state of self-hypnosis that easily and effortlessly allows you to release your worries and drift and float quickly and easily and safely into deep, refreshing sleep. Guided imagery to help you relax combines with background music produced specifically to bring you into a peaceful, receptive "Alpha" state of hypnosis that will quiet your mind and gently carry you to the dream state of the subconscious. After listening to this hypnosis tape you will sleep soundly and awaken in the morning feeling refreshed and absolutely wonderful.

"I felt connected to a lifeline by this voice! The content of the CDs is excellent, but it is the quality of Lynda's voice that really sets these apart. I've not yet heard the end of the sleep CD, except in my sleep! I readily recommend her hypnosis tapes to students, colleagues, friends, and family." Kathleen Terbeek, Professor of Voice, Texas Christian University
Everyday Miracles
of Hypnotherapy
(Paperback)
Written by Hypnotherapists Worldwide, Edited by
Stephanie Y. Rothman, CH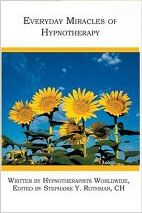 This fascinating anthology of case histories will give you a greater understanding of the power of hypnosis and what it has done for others—and could do for you.


$15.95 plus Shipping
Product code: hypnosis-book1
The Secret Language of Feelings (Paperback)
By Calvin D. Banyan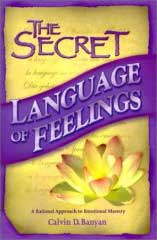 Learn how to identify what your feelings are and what their purpose is. ALL feelings are good, even the so-called "Bad" ones we try to avoid, like anger and guilt. They are there to show us something that needs attention in our lives. Find out how we distract from our feelings with compulsive behaviors like overeating and smoking and how understanding can lead to actions that will bring you peace and success.


$14.95 plus Shipping
Product code: hypnosis-book2
Rose and the Night Monsters (Paperback)
By Jo Wiese with Steve Wells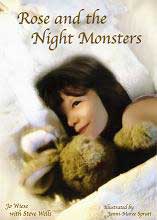 This beautiful picture book for children will help them learn EFT to overcome their fears. As Rose confronts her fears of night monsters and learns a "tap dance", children can identify their own feelings and tap along with her. Recommended for children ages 4-8.


$21.95 plus Shipping
Product code: EFT-book-children

Serving Los Angeles, Beverly Hills, Century City, South Bay, Culver City, Santa Monica, Hollywood, and Tarzana.